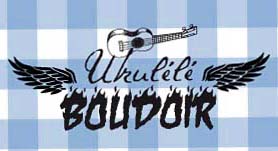 Les Chauds Lapins' Kurt Hoffman is interviewed and provides some custom artwork is on view now at Ukulele Boudoir.
(For those who might not read French, we've provided an English translation here, but please do go to the wonderful Ukulele Boudoir site.)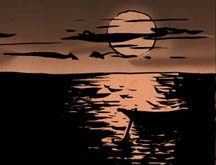 Sea kiss'd
We got a lovely drawing in the mail, from our friend Capuchine, the enormously talented graphic novelist. She created a visual complement to a song we perform, "La Barque d'Yves" -- a salty ballad where doomed lovers' tears mingle finally with emerald waves.

Have a look, and check out the song if you like -- we've provided an English translation.:
La Barque d'Yves
---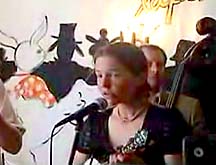 This past summer, we had an exceedlngly breezy and deilicous album release party at the 'Temporary Museum of Painting. Artist Cathy Quinlan created a backdrop for us featuring Lautrec characters gone quite animalistic. Su Friedrich made this little souvenir video of the occasion, featuring a performance of "Palez-moi d'amour".
Les Chauds Lapins @ 'temporary Museum video
---
Enfin! It's here it's here it's here! The vinyl version of our album, Parlez-moi d'amour, has arrived. The vinyl version includes all 13 songs found on the CD release. As a special bonus, it comes with sheet music, for the song "Mon rêve c'etait vous". The sheet music has the melody line, chords, French and English lyrics and fretboard diagrams for ukulele.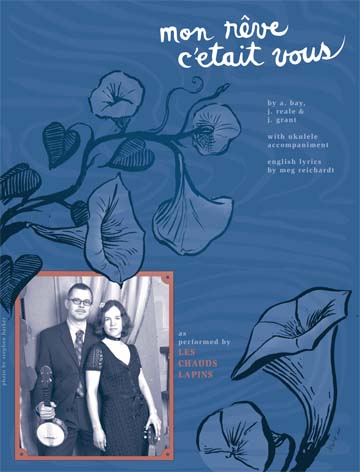 The sheet music is also available separately. Which leads us to our next point of business:
The Les Chauds Lapins web store is now open. You can now buy Les Chauds Lapins albums and other merchandise directly from us. You can pay by Visa or Master Card or by Paypal. enter web store
You can also find our CD for sale, with lots of audio samples, at CD Baby.
---
We were in Paris last fall, where we had a swell gig at the Bistrot des Artistes. The gig was set up by our indefatigable friend Romain. Here's a little clip from the gig. The audience can be heard joining in on the chorus: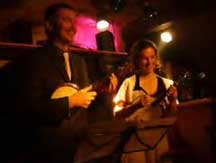 Parisian ukulele virtuoso, Romain, created a video based on Les Chauds Lapins' recording of Charles Trenet's "Vous êtes jolie." It features Romain — seen strumming his ukulele — and his friend, Anna.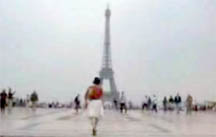 View performances of
Il m'a vu nue and
J'ai connu de vous
on the Midnight Ukulele Disco site.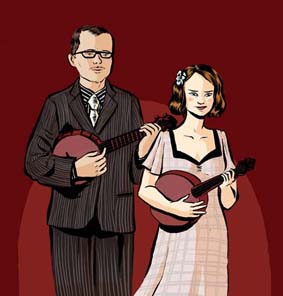 a portrait of Kurt and Meg, by Capuchine.